The Annual Canadian Fallen Firefighters Memorial Golf Tournament (East) was held on May 29, 2013 at the Royal Ontario Golf Course in Milton, Ontario. The Fire Services Credit Union organized and ran the event with the proceeds going to the CFFF. An early rain cleared out for sunny skies for the majority of the day making for a great tournament. At the dinner participants were moved by remarks given by Janny Elg from the North Perth Fire Department. Janny was the liaison to the CFFF for the Listowel families attending the ceremony last year. She spoke about the personal service given to her families while in Ottawa.
Complete photos of the golf day can be seen at: 2013 golf photos
Stay tuned for the date of the 2014 eastern Canada tournament.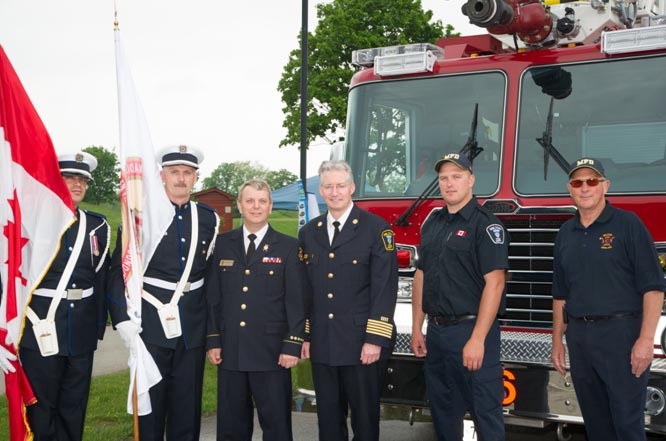 Mississauga Fire & Emergency Services Honour Guard with CFFF President Robert Kirkpatrick, Milton Fire Chief Brian Ellsworth, and the crew who provided the truck for a moment of remembrance before the start of the tournament.
Services Credit Union CEO Kevin Connolly
addresses the participants at dinner.

Janny Elg from North Perth FD
Members of the Fire Service Credit Union and their volunteers contributed to a successful event. The official cheque presentation occurred at the 2013 annual memorial dinner in Ottawa in September. C.E.O. Kevin Connolly and members of the Credit Union Board of Directors make the presentation of over $10,000 to President Robert Kirkpatrick and the Board of Directors.