3rd Annual Canadian Fallen Firefighters Memorial Golf Tournament

The 3rd Annual Canadian Fallen Firefighters Memorial Golf Tournament (West Coast) was held at Arbutus Ridge Golf Club located just 45 minutes north of Victoria, BC. The tournament saw a big increase in turn out this year with close to 100 golfers attending and more than a dozen guests for the awards banquet following the tournament. As a result of the increased attendance, the tournament raised over $7500.00 for the Canadian Fallen Firefighters Foundation.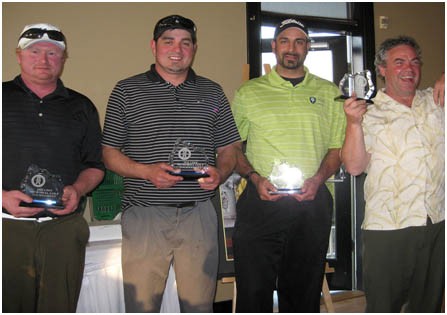 Congratulations go out to this year's tournament winning foursome of Jason Duckworth, Scott Phair, Devon Dalep and Mark Edgington pictured left to right with their winners trophies.
This year saw several great "Hole in One" prizes available including $5000 cash courtesy of Ballard Petroleum and a new Kawasaki Quad courtesy of Duncan Motorsports and Dakar Competitor Don Hatton. Although neither prize was won, it should be noted that one golfer came within a foot of the hole in which the Quad was offered as a prize. Thanks go out to both these sponsors for making these fantastic prizes available!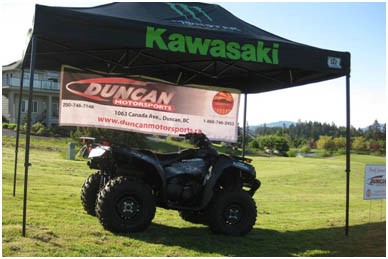 The Grand Prize draw for 2 Tickets anywhere West Jet flies was won by a firefighter with Cowichan Lake VFD. The CFFF would like to extend its thanks to Westjet for donating this prize along with all the other Companies, Fire Departments and individuals that sponsored individual holes or donated prizes. Without them, this tournament would not be a success.
We would also like to extend our thanks to Richard Ingle and all the staff at Arbutus Ridge Golf Club for their assistance and excellent service during the tournament. We look forward to returning to Arbutus Ridge in 2012 for another great tournament. Book your calendars now for Saturday June 9th, 2012.
If you would like more information on becoming a sponsor of the 4th Annual Canadian Fallen Firefighter Memorial Golf Tournament or are interested in hosting the tournament in your area, please contact CFFF Director Wayne Jasper directly at (250) 361-6092 or by email at lodd@cfff.ca. We encourage all departments across Canada to become a part of the CFFF Memorial Golf Tournament by hosting a tournament to assist us in making this a national event.